JOYNEXT and Horizon Robotics Deepen Cooperation and Showcase ADAS Domain Controllers at IAA Mobility
Ningbo
,
China
,
05/September/2023
September 5th-10th, at IAA Mobility 2023, JOYNEXT's ADAS domain controllers (nDrive series product), developed based on Horizon Robotics' JourneyTM® series computing solutions, are displayed at the Horizon Robotics' booth. The results of both parties' recent cooperation, including JOYNEXT nDrive M and other cost optimal ADAS domain controllers, were demonstrated at the booth. Such products can support all scenarios of L2++ autonomous driving, which helps drive the ADAS domain controller toward mass production at a faster pace.
Learn more about tech details via our product onepager: JOYNEXT ADAS Domain Controller - nDrive Series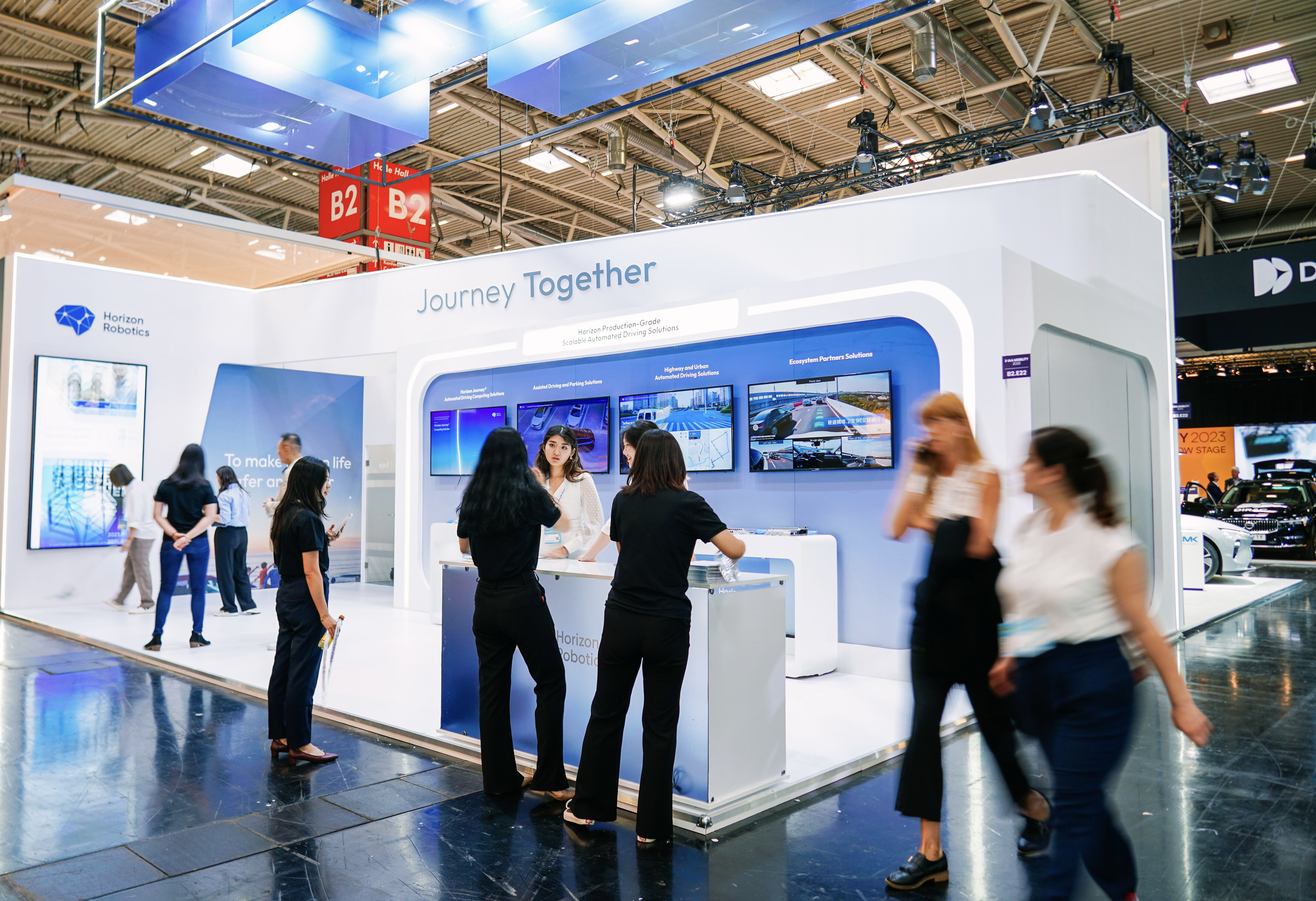 JOYNEXT and Horizon Robotics latest collaborative products showcased at IAA
The domain controllers displayed on IAA adopt software and hardware deep integration, owning sufficient computing power to meet the differentiated needs of autonomous driving and can realize L2 to L2++ scenarios. These products also meet the requirements of the C-NCAP and E-NCAP, which can flexibly adapt to the development and mass production of models developed by global OEM platforms.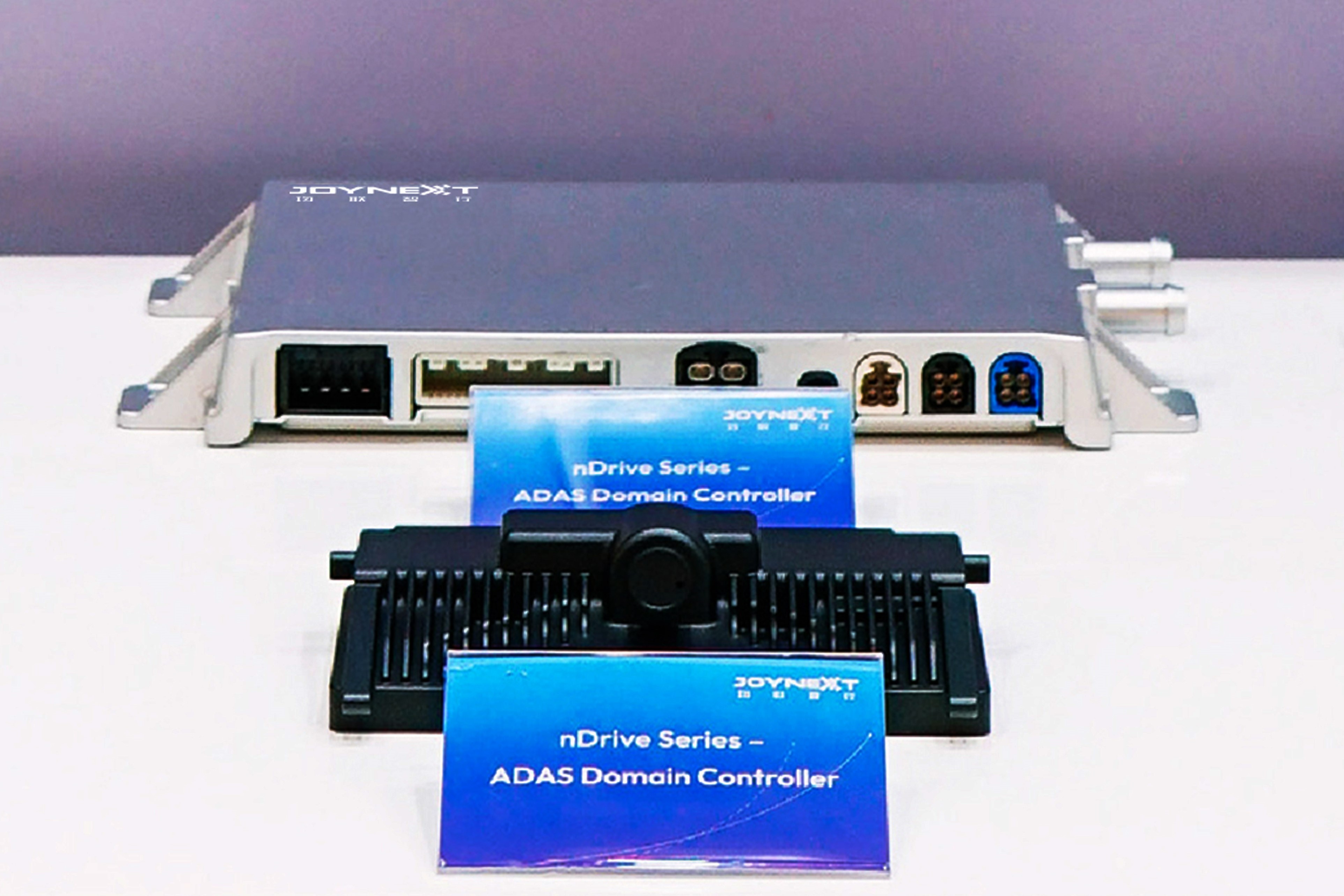 Exhibits of JOYNEXT ADAS domain controllers on the booth
JOYNEXT and Horizon Robotics established a strategic cooperation in May, 2023. By combining JOYNEXT's full experience in R&D innovation and technology accumulation in autonomous driving, as well as the scalability and openness of Horizon JourneyTM series computing solutions, we aim to jointly promote the mass production of autonomous driving vehicles. In just a few months, we have made rapid progress in the cooperation of ADAS domain controllers. JourneyTM series products help build a more diversified product matrix for the JOYNEXT nDrive series. The high-performance ADAS domain controllers jointly showcased at the IAA Mobility are the best testimony to the mutual empowerment and win-win cooperation between the two sides, which will lay a solid foundation for their further deepening cooperation.
Facing the future of autonomous driving, JOYNEXT will continue to focus on a hardware-based solution that deeply integrates software and hardware and help accelerate the mass production of autonomous driving solutions. By offering efficient and easy-to-use computing solutions and development tools, Horizon Robotics is constantly empowering JOYNEXT with underlying technologies, and promoting the mass production of differentiated product solutions with high efficiency.
About JOYNEXT
With more than 20 years of experience as a premier supplier to the world's leading automakers, JOYNEXT is one of the few providers that can develop safe and reliable intelligent solutions for customers through the synergy of software and hardware. With years of experience in intelligent cockpit, smart connectivity, autonomous driving, cloud services, and SaaS/SaaP, we have developed strong capacities in smart connectivity. Our intelligent cockpit and smart connectivity technology can now be found in more than 12 million vehicles worldwide, while 5G+C-V2X has become one of the world's first products across the segment to go into mass production.
As a long-established partner of Volkswagen, Audi, BMW, NIO, and HiPhi, among other world-famous car brands, JOYNEXT has accumulated rich experience in delivering intelligent cockpits through the global platforms, complemented by our capabilities in developing autonomous driving technologies and software products, which lay a solid foundation for the cockpit and driving fusion facing the era of Central Computing Units (CCU). We are committed to developing integrated intelligent solutions for connected vehicles and delivering a highly personalized mobility experience that is empathic, safe, and adaptable.
About Horizon Robotics
Horizon Robotics is a leading provider of energy-efficient computing solutions for advanced driver assistance systems (ADAS) and automated driving (AD) for consumer vehicles, with the mission to make human life safer and better. As a pioneer to commercialize embedded passenger-vehicle ADAS and AD products in China, Horizon Robotics is committed to enhancing next-generation driving experiences by integrating hardware and software, including low-power hardware computing solutions and open software development tools. By closely collaborating with a community of partners, Horizon Robotics offers products and services that enable an open ecosystem to accelerate the transformation of smart electric vehicles.