Prospects for progress and social commitment: Minister-President Kretschmer visits JOYNEXT
Dresden
,
Germany
,
19/April/2022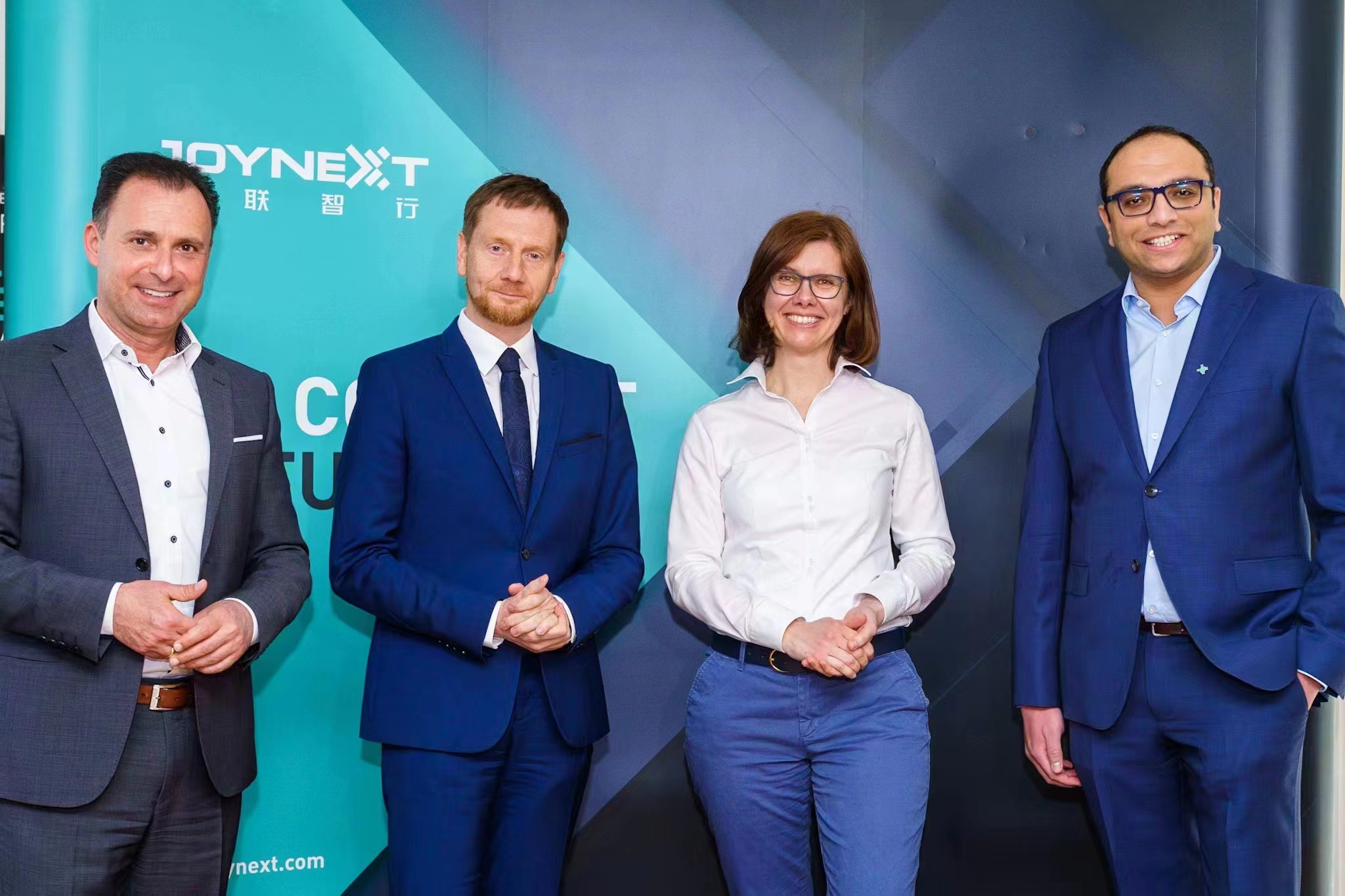 During the visit, Minister-President Michael Kretschmer learns about the progress and plans made by the automotive electronics company JOYNEXT
Saxon regional government and Saxon League of Non-Statutory Welfare Organizations thank JOYNEXT for flood relief donation and Ukraine aid
Dresden, 11 April 2022 - Minister-President Kretschmer thanks JOYNEXT for its social commitment. Visiting the company's Dresden headquarters with Dr. Nicole Porzig of the Saxon League of Non-Statutory Welfare Organizations, the Minister-President acknowledged the automotive supplier's support for the victims of the 2021 flooding disaster and the war against Ukraine. During the visit, the Minister-President also asked CEO Stavros Mitrakis and CTPO John Marcus about the progress made by JOYNEXT and the company's future plans in light of the radical changes taking place in the automotive industry. JOYNEXT employs more than 500 people in Saxony and counts as one of the region's most attractive employers.
JOYNEXT paints a picture of a challenging future for the automotive industry
Minister-President Kretschmer used the visit with the company to learn more about JOYNEXT's response to the challenges facing the automotive industry. The auto sector remains the most important branch of the state's economy, partly due to the process of extensive transformation it is currently undergoing. In supplying software and hardware to well-known automobile manufacturers, JOYNEXT is playing a part in that change; and that is exactly what the company showed Saxony's Minister-President, presenting him with JOYNEXT's plans for the coming year and revealing its latest projects. Specifically, JOYNEXT is taking its already mass-produced V2X technology to the next level with 5G. That is needed for vehicles to communicate with their surroundings in real time, and is also a key requirement for tomorrow's self-driving vehicles. To take that step, the company is doing research and development in close cooperation with major automobile manufacturers. At the same time, the company plans to extend its range of technologies and products for advanced driver-assistance systems. "Research, development and production have a long tradition in Saxony, and the auto industry is one of Germany's most important and innovative sectors. Smart systems and driverless vehicles are playing an increasingly important role in the field. JOYNEXT is a major supplier that not only creates large numbers of attractive jobs but is also a driving force in the field of innovative technologies. It is very important, and a good thing, that work is being done on the future of mobility here in Saxony. It underlines our position as an important location for technology and creates jobs and prosperity in the long term," commented Michael Kretschmer, Minister-President of Saxony.
Social commitment: one of the company's core values
Minister-President also took this opportunity to thank JOYNEXT for the help it gave to the victims of flooding in North Rhine-Westphalia and Rhineland-Palatinate. The company raised more than 250,000 euros, one of the biggest individual donations to #SachsenHilft, a joint campaign by the Saxon state government and the Saxon League of Non-Statutory Welfare Organizations. JOYNEXT is currently running an in-company campaign to collect money for the victims of the Russian attack on Ukraine, and plans to donate a total of 250,000 euros to "Aktion Deutschland Hilft," a coalition of renowned German relief organizations. Stavros Mitrakis, CEO of JOYNEXT GmbH, sees this social commitment as a basic duty that goes without saying: "We all empathize with the victims' tragic personal fates. Some of our employees come from the badly hit regions or have relatives there and are thus directly affected. Whether we are confronted with a natural disaster or a terrible war, we cannot simply look away; we want to do our part to help. That's one of our core values and reflects our responsibility for our social environment. That's why it was important to us to do all we can to support these people in need."
Minister-president praises the solidarity of Saxon industry
Minister-President expressed his appreciation for the donations by JOYNEXT: "I am deeply impressed and grateful for the incredible generosity of Saxon donors. Both civil society and the Saxon business world have shown a high degree of solidarity with the victims of the flood disaster and the war against Ukraine. I am delighted to see Saxony's medium-sized companies still playing an important role in helping people in need."
High sum collected by the end of the #SachsenHilft campaign
The victims in the flood-hit region have already received the donations collected through the #SachsenHilft campaign. The total sum was split equally between the Rhineland-Palatinate and North Rhine-Westphalia branches of the League of Non-Statutory Welfare Organizations. The joint appeal by the Saxon state government and the Saxon League of Non-Statutory Welfare Organizations was a success, netting a total of 1,560,527.87 euros in donations. Rüdiger Unger, chair of the League, is thrilled: "More than 9,000 individual donations from Saxony for the people in the flooded areas set a great precedent. It shows how grateful the people of Saxony still are for the help they got themselves when they were hit by flooding. JOYNEXT is just one example of the generosity shown by Saxon industry and commerce; the 900 Saxon companies that took part in this relief effort helped raise the impressive sum of 1.56 million euros. And the support Saxony provided went much further than people may realize: hundreds of volunteers from the aid organizations, the Federal Agency for Technical Relief and the fire departments went over to offer practical help. We are both proud and grateful of the Saxons' willingness to give up that time. It also illustrates how important volunteering is to civil protection. These recent crises and disasters are a sure sign we need more public-spirited people in the long term."