DRESDEN, January 14, 2022 —— Saxony's state capital now has a JOYNEXT Arena. The Dresden-based automotive electronics company has purchased the naming rights for the ice rink in the city's Ostragehege area. By sponsoring the arena, JOYNEXT is helping to fund its operations and making a major contribution to grass-roots and professional sports in Dresden.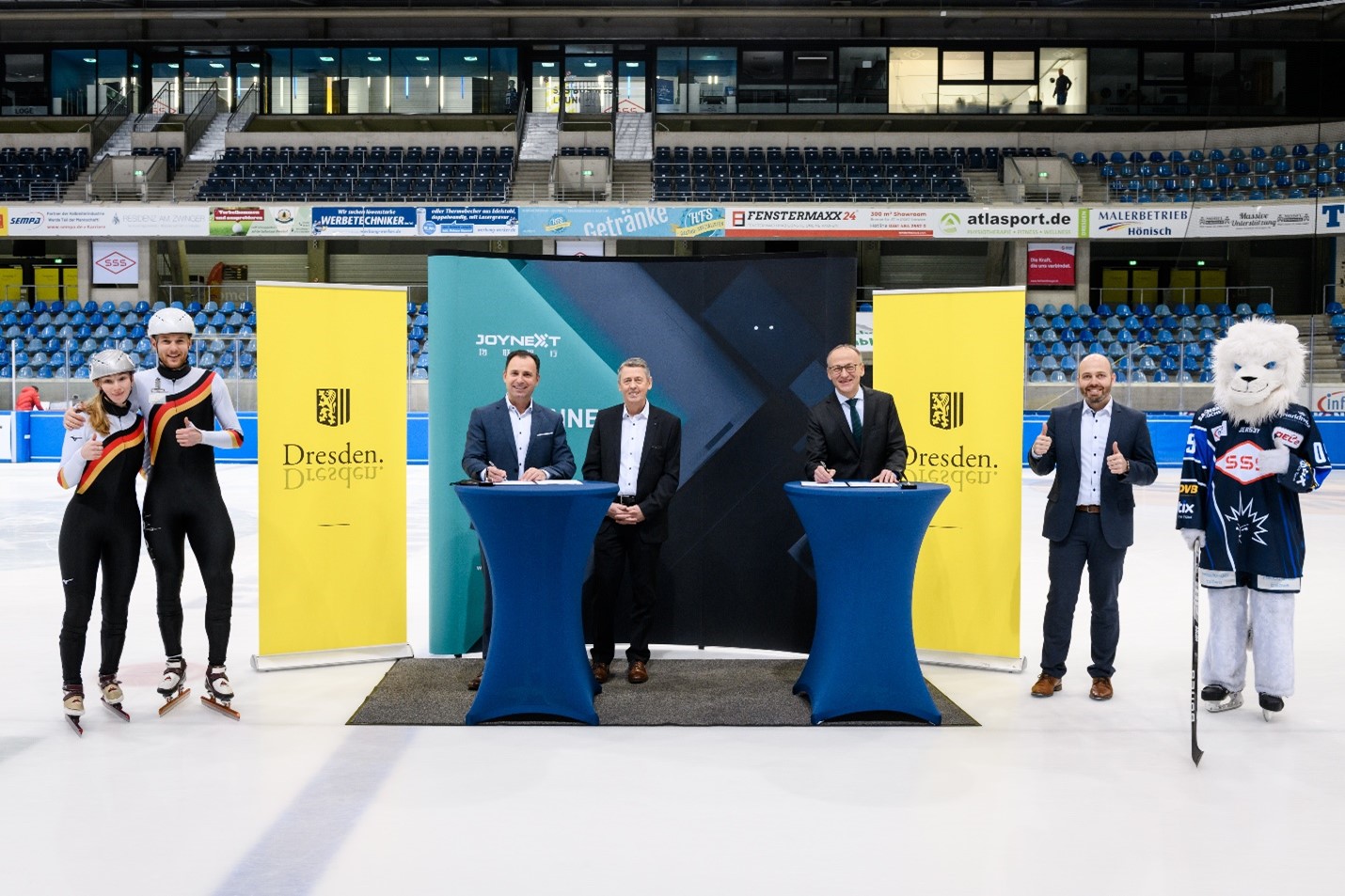 The partnership between JOYNEXT and the Saxon state capital was officially launched today when the deal was signed for an initial term of three years. Besides the arena naming rights, the cooperation includes three ice rinks and a nine-court ball sports complex. That makes the ice sports arena one of the largest and most important sports facilities in Central Germany. The JOYNEXT logo will be added to the hall during the first half of 2022.
For JOYNEXT, the sponsorship deal is just one aspect of its multifaceted engagement for the urban community in Dresden. Stavros Mitrakis, CEO at JOYNEXT, emphasises: "Dresden's ice hockey rink is a venue full of emotions, where people can be together. These values are part of JOYNEXT's DNA. It's not only fans of professional ice hockey who enjoy the arena; it also welcomes athletes from a wide range of other disciplines as well as families with children, who spend their leisure time here. We are proud to be able support this welcoming facility as part of our engagement, and look forward to working with the arena."
Dr. Peter Lames, Mayor of Dresden and Alderman for Finance, Personnel and Legal Matters is delighted with JOYNEXT's decision to support the arena: "JOYNEXT is an outstanding example of a company making a lasting contribution to the prosperity of our city, which has been working here for many years and benefiting from the expertise of highly qualified employees. I view the partnership as a clear commitment to Dresden as a business location. At the same time, this partnership is an expression of appreciation for our municipal ice sports arena, which is among the largest and most important sports facilities in the region, with its three ice rinks and the nine court ball sports complex.