Joining forces to combat Covid: JOYNEXT is taking extensive measures to stop the pandemic spreading
Dresden
,
Germany
,
16/September/2021
JOYNEXT plays its part in mitigating infections and ensuring that business keeps running smoothly. As soon as the pandemic started in spring 2020, the company took a range of measures to protect staff and has been implementing them successfully ever since. With this, it was possible to prevent outbreaks at the facility. The focus is now on increasing the vaccination rate in the company to keep the team and business partners healthy through the autumn.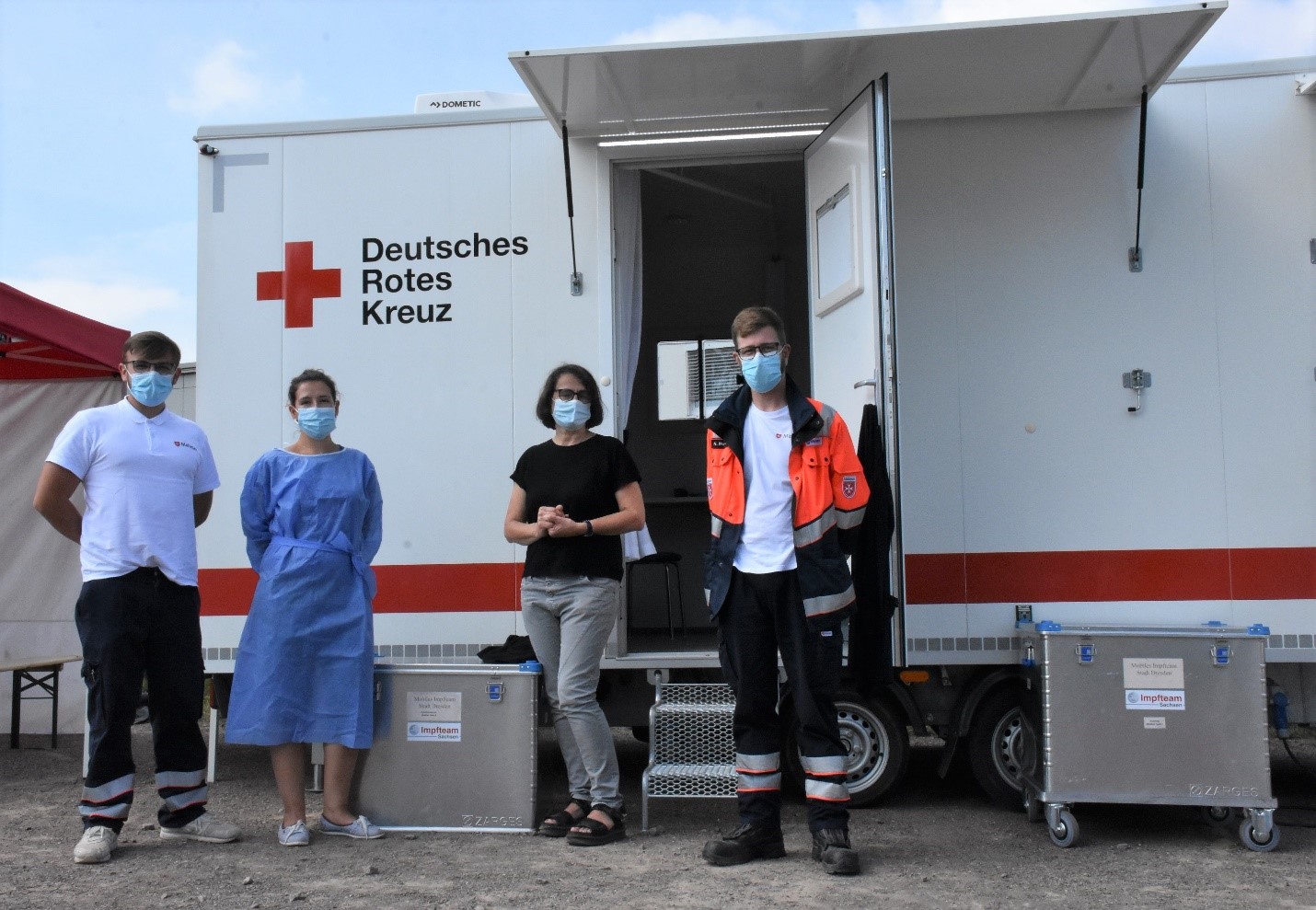 JOYNEXT offers staff members vaccinations on the company premises
JOYNEXT is partnering with the German Red Cross (DRK) and another company based at the Merbitz Industrial Park to offer its staff members vaccinations. Thanks to this cooperation, JOYNEXT has already been able to hold two staff vaccination days, one in June and one in August 2021. On 7 September, JOYNEXT also let a mobile DRK vaccination team use its company car park to administer vaccines to willing recipients. That afternoon, another DRK team was in the Mobschatz Village Club to vaccinate people living nearby.
"The response from our team to the vaccination services has been great so far," reports Stavros Mitrakis, JOYNEXT CEO, before going on to promote the Covid vaccination. "The vaccination is the next crucial step in stemming the pandemic. It protects against severe cases and greatly reduces the risk of long-term symptoms from the viral infection after severe cases. Every single person who receives the vaccination now helps us get back to a more-or-less normal life together," says Stavros Mitrakis.
Crisis team and comprehensive information for employees
When the pandemic broke out, JOYNEXT rolled out comprehensive measures to combat the viral infection. In March 2020, the company assembled a crisis team to deal with urgent issues and measures. Headed up by the Managing Directors, the crisis team comprised representatives from the following central divisions: HR, OHS, Works Council, Facilities and IT. To keep its staff up-to-date on the latest regulations and appropriate behaviour to stop infections, JOYNEXT has been informing them openly from the very outset. Changes to the valid Coronavirus Protection Ordinance were communicated on all internal channels. That included keeping the Covid FAQ up-to-date at all times, to ensure that all of the employees' important questions are answered at all times.
Mobile working and special support for parents
To reduce direct contact in the workplace, JOYNEXT first facilitated mobile working company-wide and digitalised many analogue processes, including provision of the required IT infrastructure. JOYNEXT also assessed all workstations to determine whether the spacing can be increased. That allows employees to continue working at their usual workstation, while also complying with the relevant distancing and hygiene rules even during the pandemic.
Free tests and masks
JOYNEXT offers its employees free Covid-19 tests four days a week on the company premises to ensure that they are safe in the workplace and identify infections. Besides the self-tests all employees can take twice a week, the company works with a physical therapy practice to offer rapid antigen tests on two other days a week. The certificates issued for these tests help employees keep up their private obligations and activities that require a negative Covid test. Sanitiser dispensers have been installed in many locations throughout the office buildings. JOYNEXT also ensures that all employees have access to surgical-grade face masks. Masks are distributed free of charge on the company premises every day. JOYNEXT not only wants to supply surgical masks to its own employees, but also want to help others. In 2020, the company donated 4,000 masks to Dresden's civil protection services. "We will continue to act responsibly both internally and externally, and make our contribution to ensure that we all get through this challenging and demanding time safely and healthily," concludes Stavros Mitrakis.