ADAS and Navigation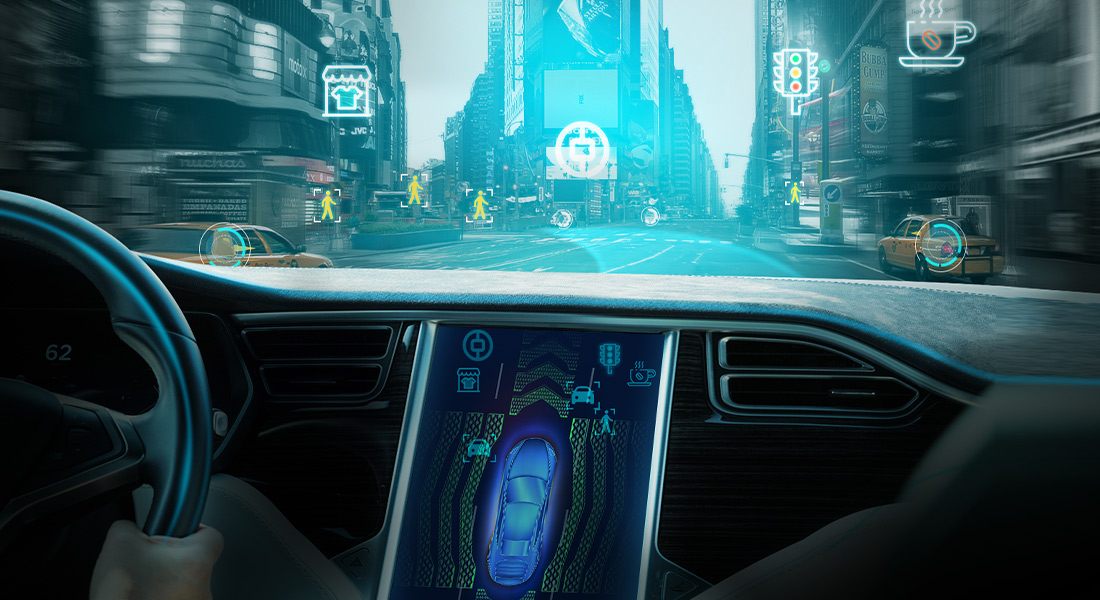 How could we satisfy drivers' needs for accurate navigation under a complex traffic environment?
For drivers of both conventional and autonomous vehicles, safety always comes first. JOYNEXT's top-of-the-line navigation engine, with built-in high-accuracy algorithm, NavCore delivers high sensitivity and precise analytics. In addition to intelligent lane navigation and guidance, it ensures to guide the driver to stay in the correct lane while operating at high speeds in difficult driving conditions.
Relying on location information and data sourced from multiple satellites and sensors, JOYNEXT's intelligent driving software provides greatly improved navigation, so as to further support ADAS and autonomous driving features. With the help of cloud computing, the software provides a host of relevant journey information to all interested parties en route. We do everything in our power to improve your journey through smart mobility.

Hybrid Navigation
The Latest Navigation Technology Around You
Nowadays, navigation is more than just a tool that helps guide to your destination. Our JOYNEXT NavCore is a predictive solution, utilizing cloud technology to provide useful, applicable route information to the driver, passengers, and the vehicle itself.
JOYNEXT Solution
Ultra-modern navigation functions
Tailored solutions for new energy vehicles
Hybrid navigation includes third party content and online map update services
Connected, deeply integrated services
Intelligent predictive algorithms
NDS-compliant platform
By intergrating various scenarios, JOYNEXT offers a complete navigation solution. When parking in an unfamiliar city, for example, a driver using our navigation system can easily find the nearest free parking lot, book a parking space, and pre-pay parking fees before leaving. As navigation systems evolve and become more personalized, our navigation system will show drivers interest with regard to shopping, dining, entertainment, and more, while also learning any patterns relevant to route preference.
Our navigation platform is open to new features, including services by other suppliers and cloud-based software updates by vehicle makers or third party service providers. For example, our multimodal interactive navigation system can integrate information for flights, buses, trains, and any other means of scheduled transportation.

Lane Accurate Guidance
Always In the Right Lane
Even in complex highway constellations, the JOYNEXT NavCore, combined with JOYNEXT's highly accurate positioning, provides lane accurate route guidance and maneuvering instructions, ensuring the driver remains in the correct lane.
JOYNEXT Solution
High-precision positioning
Accurate lane navigation and guidance
Real-time lane changes
Requirements for autonomous driving
Data fusion from different sensors, such as as V2X, cameras, and HD-maps for high precision positioning
Ultra-precise maneuvering recommendations (e.g.ramp access, swerving, etc.)
E-horizon technology is a crucial prerequisite for the successful implementation of fully autonomous driving.
E-horizon features include high-accuracy locations, high-precision maps, and cloud information (e.g. traffic conditions). Forming the basis of our predictive driver-assistance system, it plays an increasingly important role in our success. The data delivered to drivers may be directly entered in the car-mounted system. Empowered by E-horizon, JOYNEXT has laid a solid tech foundation in the pursuit of autonomous driving. Intelligent driving is our core competency at JOYNEXT, and mobile cloud computing is an important part of realizing the AR features we seek to implement.

Data Sensor Fusion
Navigation and Driver Assistance Systems Need More than Simple GPS Positioning
Using multiple inputs besides pure satellite positioning information enables high-end navigation, and is also a precondition for many ADAS. JOYNEXT has developed enhanced data sensor fusion algorithms to provide highly efficient inputs to various ADAS functions.
JOYNEXT Solution
Support different global satellite positioning systems, such as Galileo, GLONASS, Beidou and QZSS Support RTK.
Vehicle status and vehicle sensor data inputs:

ESP/ABS, steering wheel sensors
Gyro/barometric altitude sensor
Cameras
LIDAR
The source data required for Driver Assistance Systems is needed from vehicle status monitors, vehicle-around sensors, and external inputs. All sensor inputs are analyzed and assessed in the sensor fusion layer. In the era of smart transportation, Driver Assistance Systems may integrate more inputs from cloud, other vehicles, or intelligent infrastructure to deliver better driver-assistance features.
This also indicates an increasingly greater importance ascribed to Advanced Driver Assistance systems. We are working hard to usher in and define the coming trends, including linking our Driver Assistance systems with future cloud services, telematics, and fully autonomous driving systems.
JOYNEXT will lead to implement an autonomous parking solution based on visual fusion, so as to resolve the problem of last-mile mobility in low-speed settings.
In 2021, our parent company, Joyson Electronics, made a strategic investment into LIDAR company Innovusion, and also founded the Ningbo Joyson Intelligent Automotive Technology Research Institute Co., Ltd. Specializing in intelligent driving research and development, the institute is considering setting up an autonomous driving joint venture in the future. In the long run, a closed commercial loop of "domain controllers+LiDAR+5G-V2X+software algorithms" will begin to take shape.