JOYNEXT and Horizon Robotics tie up to develop and implement autonomous driving solutions
NINGBO, China, May 19, 2023 -- JOYNEXT and Horizon Robotics signed a strategic cooperation agreement whereby both parties will work together to develop and implement high level autonomous driving solutions.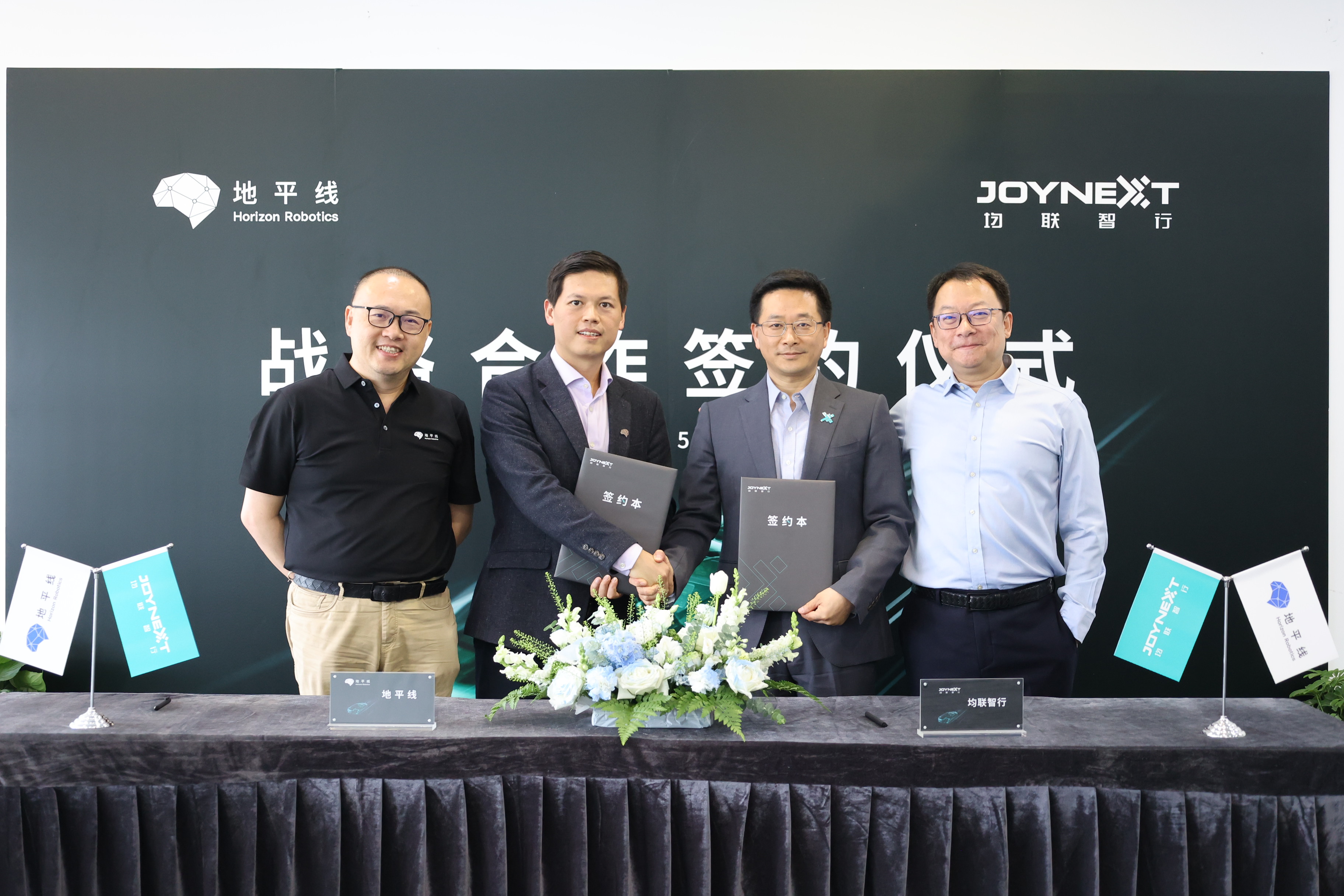 In line with the trend, JOYNEXT is focusing on developing and implementing innovative technology solutions for smart and connected vehicles. As a leading provider of energy-efficient computing solutions for advanced driver assistance systems (ADAS) for consumer vehicles in China, Horizon Robotics will provide smart driving solutions based on "computing solutions + referential algorithm + development tools". By leveraging JOYNEXT's leading autonomous driving technology, the two companies cooperate to develop cutting-edge products, including advanced driver assistance systems (ADAS), autonomous driving, and human-machine interaction, accelerate the mass production of autonomous driving solutions and lead growth for smart automobile industry.
"As a pioneer to promote and commercialize advanced driver assistance for consumer vehicles in China, Horizon Robotics owns advanced technology and rich development experience in automotive-grade computing solutions, vision perception and human-machine interaction. In this cooperation, we expect to bring the combination of our innovation experience in intelligent cockpit, smart connectivity, and autonomous driving into the partnership with the aim of developing and implementing high level autonomous driving solutions with Horizon Robotics." Said Liu Yuan, Chairman & CEO of JOYNEXT.
"JOYNEXT is a leading global provider to auto makers, known for its advantages and forward thinking in terms of autonomous driving technology, hardware design, manufacturing, and software development. Horizon Robotics is honored to have reached a strategic partnership with JOYNEXT to jointly explore and accelerate the implementation of cutting-edge technologies. I believe that based on the shared goal of advancing the integration of software and hardware, we will leverage our advantages to empower auto companies, accelerate the implementation and adoption of advanced driving assistance technologies, and create a safer and better mobility experience for drivers and passengers worldwide." Said Dr. Yu Kai, Founder & CEO of Horizon Robotics.
About JOYNEXT
With more than 20 years of experience as a premier supplier to the world's leading automakers, JOYNEXT is one of the few providers that can develop safe and reliable intelligent solutions for customers through the synergy of software and hardware. Our intelligent cockpit and smart connectivity technology can now be found in more than 10 million vehicles worldwide, while 5G+C-V2X has become one of the world's first products across the segment to go into mass production.
As a long-established partner of Volkswagen, Audi, BMW, NIO, and HiPhi, among other world-famous car brands, JOYNEXT has accumulated rich experience in delivering smart connectivity solution ​through the global platforms, complemented by our capabilities in developing autonomous driving technologies and software products. We are committed to developing integrated intelligent solutions for connected vehicles and delivering a highly personalized mobility experience that is empathic, safe, and adaptable.
About Horizon Robotics
Horizon Robotics is a leading provider of energy-efficient computing solutions for advanced driver assistance systems (ADAS) and automated driving (AD) for consumer vehicles, with the mission to make human life safer and better. As a pioneer to commercialize embedded passenger-vehicle ADAS and AD products in China, Horizon Robotics is committed to enhancing next-generation driving experiences by integrating hardware and software, including low-power hardware computing solutions and open software development tools. By closely collaborating with a community of partners, Horizon Robotics offers products and services that enable an open ecosystem to accelerate the transformation of smart electric vehicles.